Home
>
Hammocks
>
Sunyear Hammock Camping with Net/Netting Mosquito & 2 Tree Straps (16+1 Loops Each,20Ft Total), Portable Nylon Parachute Hammocks for Outdoor Indoor Backpacking Survival & Travel ( 78 inch x 118 inch )
Sunyear Hammock Camping with Net/Netting Mosquito & 2 Tree Straps (16+1 Loops Each,20Ft Total), Portable Nylon Parachute Hammocks for Outdoor Indoor Backpacking Survival & Travel ( 78 inch x 118 inch )
Detail

Product Name:

Sunyear Hammock Camping with Net/Netting Mosquito & 2 Tree Straps (16+1 Loops Each,20Ft Total), Portable Nylon Parachute Hammocks for Outdoor Indoor Backpacking Survival & Travel ( 78 inch x 118 inch )

Item NO.:

S06D

Weight:

1.3 kg = 2.8660 lb = 45.8562 oz

Category:

Hammocks

Brand:

Sunyear

Creation Time:

2020-12-17

Size: 78 inch x 118 inch
Material: Nylon
Color: Black & Grey
Brand: Sunyear
Weight Support: 500 Pounds

THE PERFECT SOLUTION:Sunyear has many years of experience in building net hammocks, using professional designers which ensure innovative designs and perfect customer care. Our new hammock has a simple design yet is extremely spacious. The easy to install design saves up to 30% of your time compared to the previous generations.




PREMIUM QUALITY MATERIALS: This camping hammock with net is made with heavy duty, highly durable 210T parachute nylon(The same as most popular brands) and No odor special tear-resistant bug nets which are guaranteed to withstand the test of time.




PLENTY OF SPACE: Enjoy your favorite book, take a well-deserved nap or simply relax your body and mind with these deluxe hammocks for trees with net, which provides plenty of space and doesn't have that suffocating feeling! The hammock has a capacity of 500lbs and is foldable, being the perfect travel companion!




WIDELY COMPATIBLE: Unlike similar products on the market which feature a fixed design and size, our hammock with net comes with 2pcs, 10ft each, tree saver straps and 16+1 loops, being easy to adjust to any tree size.




EASY DIY INSTALLATION: Say goodbye to the hassle of complicated instructions and required tools which take up your time and drain your energy! This hammock with bug netting is easy to install within minutes!




Whether you're an enthusiastic outdoor adventurer who enjoys the occasional camping experience or you simply want to relax in the comfort of your own garden, the Sunyear portable hammock is exactly what you need!

If by some reason you're not entirely pleased with your purchase, our customer care department has got you covered!

Why is this product for you?

The Sunyear hammock with netting mosquito is ideal for any self-respecting adventurer, being lightweight, portable and durable in any situation!

Made with 210T parachute type nylon, with a non-tear, highly resistant and dense mosquito net and fully adjustable length straps.

This camping hammock with mosquito netting will instantly become your favorite travel or garden lounging space!

Some of the amazing features of this product:

No need to buy other straps;

No low quality easy to tear material;

Professionally designed;

Easy to install;

Save your money, time and energy;

Adjustable straps included (2 x 10ft each, 16+1 loops);

Capacity: 500lbs;

Ideal for reading, relaxing, napping;

One hammock, two uses;

Thoughtful present for camping enthusiasts.


You'll fall in love instantly with this deluxe netted hammock!



Adding to cart succeed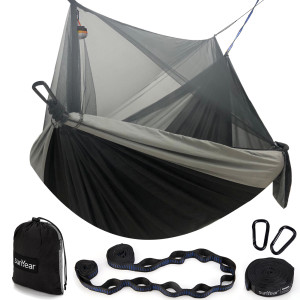 Sunyear Hammock Camping with Net/Netting Mosquito & 2 Tree Straps (16+1 Loops Each,20Ft Total), Portable Nylon Parachute Hammocks for Outdoor Indoor Backpacking Survival & Travel ( 78 inch x 118 inch )
color:red,size:xxl
Company Info
Payment & Shipping
Help Center
Join our community